MIDDLE SCHOOL
a place of inspired learners
Our unique, open planned and innovative Middle School provides an environment that encourages excellence at a crucial stage in a student's educational journey. Students are introduced to the world of Secondary School carefully and intentionally.
Our Middle School educators focus on collaborative and team teaching where they explore and continually improve their pedagogy, as well as offer different teaching styles to better engage our diverse learners. Students have greater access to educators by being in the one centre with educators on hand for help.
Our Middle School offers open plan and modern learning environments where students are able to have more control over their physical space to help them achieve their learning needs as well as access to the Secondary School specialist classrooms.
The educators are privileged to be a part of such an important time in a student's learning journey. They develop strong relationships with the students and provide guidance as they prepare to move into their future pathway in the senior years. Our educators along with the support from our well-being staff understand the nature of the adolescent years and are prepared to assist the students in utilising their individual attributes, foster their values and equip them with lifelong skills.
We ensure that students aspire and strive to achieve the greatest possible choice of futures through an experience of excellence in pedagogy and pastoral care.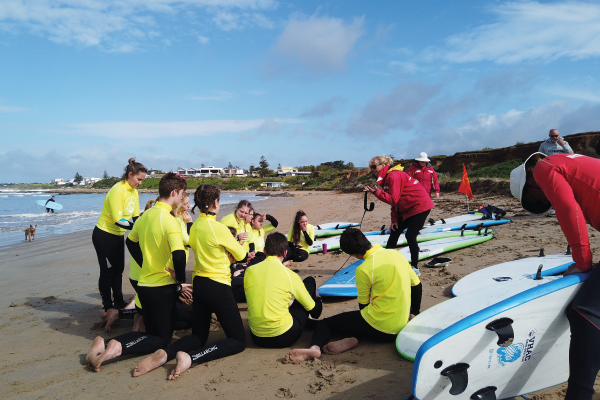 Year 9 at Hills Christian Community School is an important year for our students as they begin to transition into their own personalised learning journey. It is a year where unique programs are experienced as part of the extracurricular program and a time when student engagement is at the forefront of the teaching and learning process. Students are encouraged to explore new subjects, new experiences, new challenges and new programs that they may not have in the past. 
A key feature to our Year 9 Curriculum is 'The Rite Journey' which is an established yearlong program that integrates healthy rites of passage to prepare students for their transition to into adulthood. Year 9 students are venturing into one of the most significant times in their adolescence and 'The Rite Journey' supports our students through significant physical, social and emotional changes. One of the key features of the program is a wide array of challenges (physical, spiritual, emotional) that are integrated throughout the year which helps to build their independence, self-esteem and resilience. Students are streamed into classes that are grouped by gender and the program is facilitated by an educator of the same gender which allows students to discuss topics and issues in a safe and nurturing environment. 'The Rite Journey' at Hills provides an opportunity for our young adults to deeply explore themselves, their peers and how they relate to the wider community around them through fostering mentoring relationships with key adults and their educator. 
Secondary School
a place of future discovery
The HILLS Senior School is a dynamic learning community where we provide an inspiring, relevant and challenging program which builds on the foundations established in the earlier years. Our new purpose-built facilities allow for innovative, hands-on learning environments that inspire excellence. It is a vibrant, nurturing and friendly environment that engages all aspects of our students' lives and interests.
Academically, we prioritise students' pathways that lead to a stronger focus on future goals and aspirations. Students have flexibility and choice as they take responsibility for their own learning, with the ability to choose from a wide variety of subjects as part of a broad and well-balanced curriculum. For students looking at a different avenue of learning, we also offer links to TAFE, Vocational Education Training and apprenticeship opportunities that also build into valuable qualifications and future careers. Please check out our HILLS careers site where you will find University, TAFE and any other type of course across Australia, get information about the SACE, search for job vacancies and locate our Curriculum Guides for 2023.
Our Year 10, 11 and 12 students assume greater responsibility in the school community. This links in with our leadership program, encouraging positive mentoring skills, and allows students the chance to lead and serve others in the community.
We also offer activities beyond the classroom, including sporting opportunities, music programs including our chapel band, camps, work experience and community service projects, which give the students the opportunity to build resilience in themselves and learn to work beyond their self-imposed limitations. These activities also provide an opportunity for all students to explore and develop skills outside the classroom. It highlights the diverse range of gifts and skills of our learners, which should be celebrated as much as the academic achievements.
HILLS encourages personal excellence, according to each student's ability and their strengths and interests are constantly nurtured.
Our students are encouraged to utilise their skills developed throughout their education to embrace the challenges of the world and to approach their future with confidence.