HILLS strives to enable children to learn and grow to achieve their potential by providing an individualised and purposeful student-centred curriculum that inspires creative risk-takers and collaborative, entrepreneurial problem solvers who have a passion for lifelong learning and service to others.
Planted in Christ 
Develop a personal understanding and application of the Christian Faith, while assisting each student to discover and develop their God given strengths and gifts.
Growing with Nature 
Conserve and support a sustainable learning environment, understanding and utilising nature to enrich student wellbeing.
Nurtured to Thrive 
Develop a caring school community that respects diversity and values fellowship by celebrating each student, their gifts and their contribution.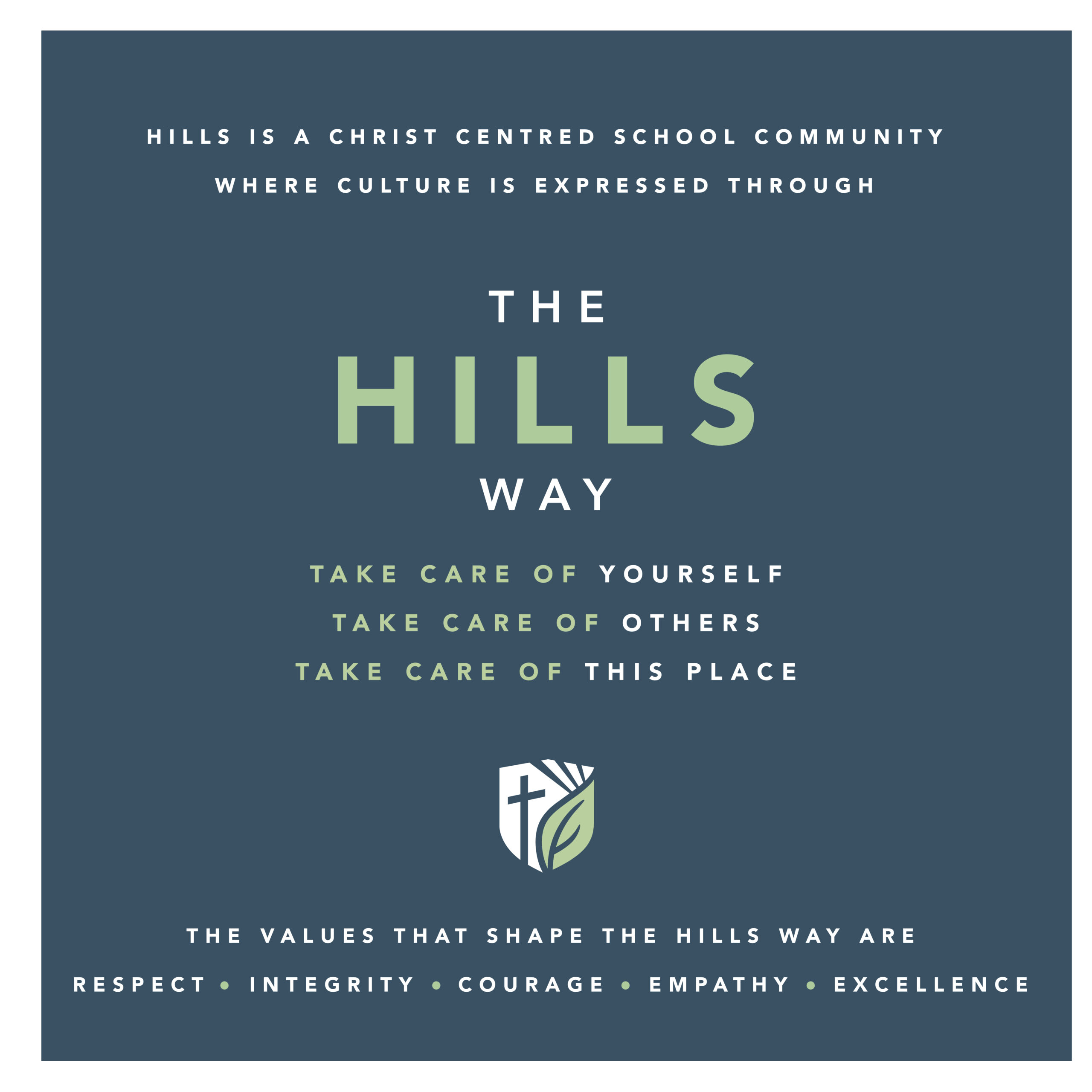 Our Mission
Our mission is to help children learn and grow to achieve their potential through:
Acknowledging that Jesus Christ and his teachings are central to the purposes of this school
Assisting each student to discover and develop their strengths and gifts
Developing a caring school community which respects diversity and values fellowship
Assisting students in developing a personal understanding and application of the Christian faith
Providing a foundation upon which students can develop discernment, wisdom and leadership qualities
Preparing students for on-going learning and fulfilling lives in a world of rapid change
Fostering in students the development of positive relationships and interpersonal skills
Valuing each student and their gifts and contribution.
Our Purpose
The School is established and will be run for the purpose of educating children on the basis of the Christian Faith, in accordance with the aims as expressed in the Statement of Belief.
Our Aims
The School will seek:
To operate on Christian principles, with a staff actively committed to the Christian faith, in accordance with the Statement of Belief and Aims as set out in the Constitution
To develop the spiritual, psychological, social, academic, creative and physical potential of each enrolled child
To promote strong learning with the appointment of high quality teachers and support staff
To foster a co-operative relationship between parents, staff, children and school
To provide a comprehensive curriculum which includes worship and has a balanced use of Christian themes in all relevant areas
To accept the common elements of the Christian faith while accepting the diversity of belief and interpretation, and avoiding any denominational doctrine or emphasis
To be open, so far as its resources shall permit, to children of the community provided that their parents support the aims of the School
To promote and facilitate beneficial relationships between child, family, staff, churches and the wider community.
HILLS is affiliated with the Association of Independent Schools SA (AISSA) which provides funding, industrial and operating advice to South Australian independent schools. Visit their website at www.ais.sa.edu.au.
Statement of Belief
We believe that the teachings of Jesus are the foundations upon which our attitudes and actions should rest. We are not a denominational school and the faith experience at HILLS is joyful, relational and faith building.
The following Statement of Belief was adopted as the School's Foundational Creed in 1983:
We believe the Bible to be the inspired word of God
We believe that there is one God: Father, Son and Holy Spirit
We accept that Jesus Christ is central in our School and therefore that everything that is done, including the learning, at School or in the School's name, should be done to honour Him
We believe in the sovereignty of God in creation, providence, revelation, redemption and final judgement
We believe that all mankind was created in the image of God but that man estranged himself from God and his neighbour by disobeying God's Word and that reconciliation is only possible through the love of God and the sacrifice which Jesus made on our behalf
We believe in the ministry of the Holy Spirit who enables us to live a Godly life
We believe in the personal return of the Lord Jesus Christ
We believe that all Christians are united in the Body of the Lord Jesus Christ.